Donnerstag, 1. Dezember 2011
Treating A Scorpion Sting: $ 100 In Mexico, $ 12,000 In U.S.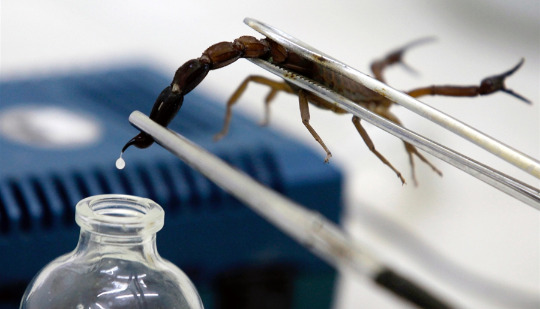 By Jenny Gold
Kaiser Health News, November 28, 2011
"Say you're trekking through the desert in Mexico, minding your own business, when all of a sudden a scorpion scrambles up your boot and stings your leg. You hobble over to a nearby clinic, where you're given a dose of anti-venom that brings you fast relief. The charge for the serum is about $100.
Now imagine instead that you happen to be hiking in Arizona, and the same type of scorpion stings you. You make it to the emergency room, where the charge for a dose of the same anti-venom costs can cost as much as $12,000, according to a survey by The Arizona Republic. Since patients need three to five doses, the cost can reach about $50,000.
The drug, called Anascorp, has been available for years in Mexico, but was just given FDA approval in August for the U.S. market. Anascorp is designed to treat the sting of the Bark Scorpion, a particularly poisonous species."
Source:
http://capsules.kaiserhealthnews.org/index.php/2011/11/treating-a-scorpion-sting-12000-in-u-s/
N
ow why does the same drug cost 120x in the United States? It's because our system is absolutely broken. Every person, group or company adds an additional fee to the drug to reap off the benefits. The nurses want money, the doctors want something, the insurance wants a bite, the drug delivery wants something too, and so on. Anyone saying that this health care mess is working perfectly fine, needs serious help.
The high price will not only discourage people to take this drug when they need it, it also reduces sales discouraging the drug manufacturer to do further research finding cures for other venoms. The same drug landing in the single payer health-care system of Canada will probably cost slightly higher than in Mexico due to importing costs. Yet another reason why we need a fully revamped universal health care system, not the mess they passed back in 2010.
... comment